INESC-TEC projects overview (RTP3):
Current Research Projects:
PAC – DM4Manufacturing –  Development of the new generation of industrial production systems with an integrated development on the technology level (Robotics) and on the upper layers of production management (ICT based decision making). (03/SAIC/2015 – 2016 to 2019)
PRODUTECH SIF – Solutions for the Industry of the Future – The mobilizing project PRODUTECH SIF embodies a comprehensive response towards the development and implementation of new production systems, embedding advanced production technologies, that will equip the manufacturing industry to meet the challenges and opportunities of the 4th industrial revolution.
The project incorporates a strategic, coherent and integrative set of R&D activities in key domains that foresees the development of new production technologies for multi-sectorial application, and with impacts in terms of the reinforcement of the competitiveness and sustainability of the industry at international level, encompassing:
– Networked production systems
– Innovative technologies for new cyber-physical production systems
– Development, management and improvement of cyber-physical production systems
– Key enabling production technologies, automation and advance robotic systems
– Integral sustainability and efficiency of production systems
– Energy technologies
– Advanced tools for the development of products and services
The project incorporates a research and innovation agenda, for production technologies, cyber-physical systems and industry transformation. It embodies the combined efforts from actors of the industrial fabric and research and innovation system, gathering a critical mass for the effective development and deployment of advanced knowledge and technologies, which will be transferred and assimilated by industrial companies, and deployed in innovative products and services (production technologies), embedding advanced solutions. As such, it foresees the technology creation, acceleration, transfer and demonstration of developed solutions in reference companies from user sectors, towards its effective diffusion, valorisation and adoption by industry. The PRODUTECH SIF stems from the confluence of R&D +I(nnovation) +D(emonstration and diffusion) axes of the Production Technologies Cluster multi-annual programme and gather a consistent set of activities towards the above mentioned goal.
COBOTIS – Human-robot interaction for collaborative robotics – FCT (01/06/2018 – 31/05/2021) – Robots are increasingly present in our lives, sharing the workspace with humans. However, existing interfaces for human-robot interaction/cooperation (HRI/C) are neither intuitive nor safe. COBOTIS will create a new collaborative robot in which robot and human co-worker understand and assist each other. Human behaviours and gestures have to be recognized in continuous recurring to the most advanced pattern classification techniques like deep and reinforcement learning. The inputs for these algorithms are data from multimodal sensor systems capturing the robot environment occurrences. In certain modes of operation, the COBOTIS robot has the autonomy to carry out their tasks so that the collision avoidance ability will be required to operate in a dynamic industrial environment while keeping the task target. Kinematics and dynamics controllers ensure a smooth path control. The COBOTIS robot will be tested in an automotive assembly use case working side-by-side with a human co-worker.
ScalABLE4.0 (FOF-11-2016 – Digital automation): The challenge is to fully exploit the digital models of processes and products and to synchronise the digital and physical world respecting security and IPR protection requirements. This shall allow manufacturers to move from centralised production and logistics to de-centralised planning and control or hybrid combinations thereof. (2017-2019)
Current Contacts and Technology Transfer Projects
RDH – Trivalor / Gertal: internal logistics mobile robot for load transport using trolleys.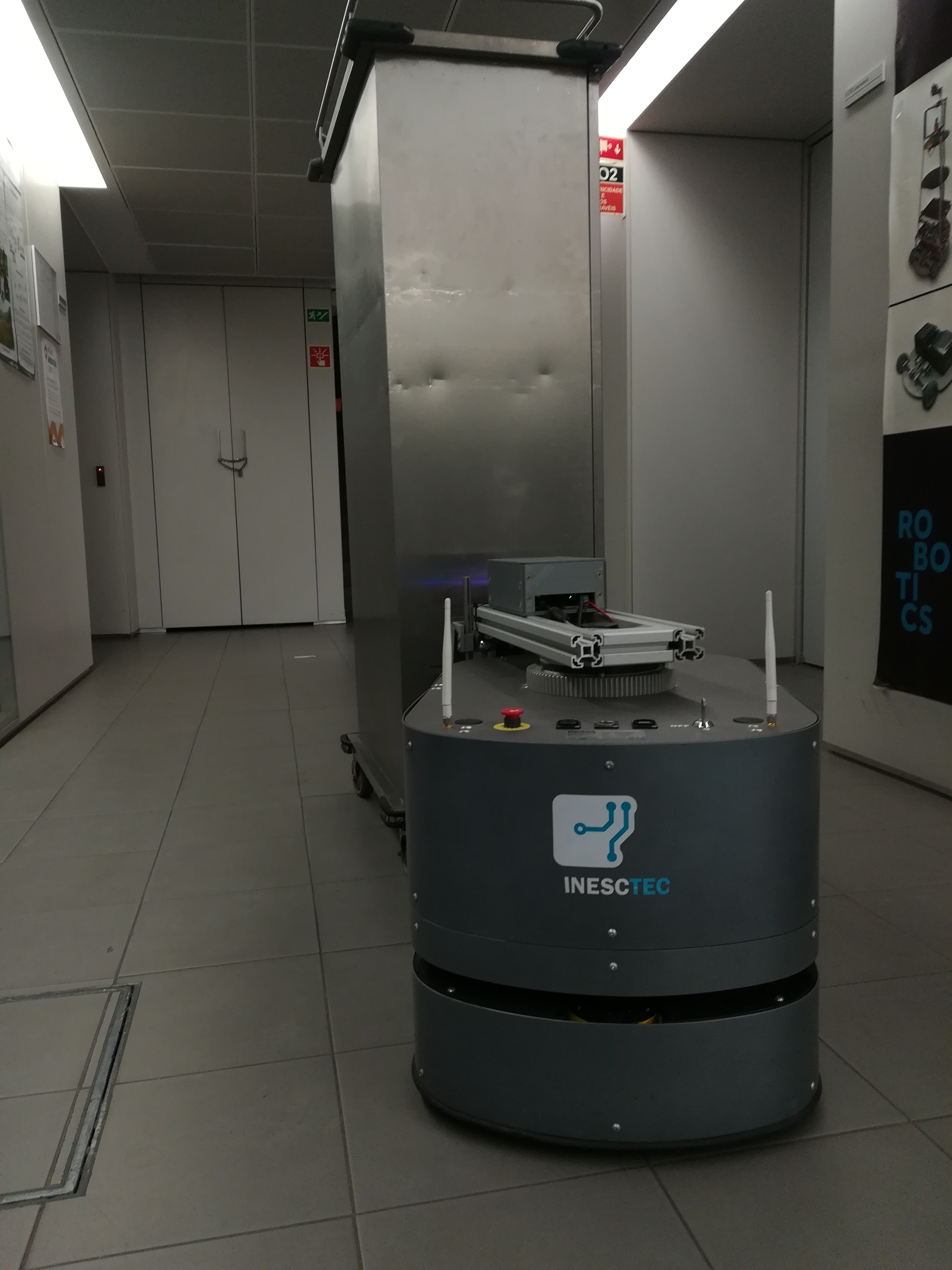 PBA – Singaure: software development for mobile industrial robot (2018-2019)
Refinação 4.0 (GALP) – External logistics and surveillance robot.
Closed Research Projects (2009 to …):
ColRobot – Collaborative Robotics for Assembly and Kitting in Smart Manufacturing (H2020-ICT-24-2015: Robotics – 2015 to 2018)
STAMINA – Sustainable and Reliable Robotics for Part Handling in Manufacturing Automation (FP7-ICT – 2013 to 2017)
FOCUS – Advances in FOestry Control and AUtomation Systems in Europe ( FP7 – SME-targeted collaborative projects – 2014 to 2016)
CARLoS – CooperAtive Robot for Large Spaces manufacturing (FP7-Research for SMEs – 2013 to 2015)
OCHERA – Controlo Óptimo: Aplicações em Saúde, Energia e Robótica (FCT PTDC/EEI-AUT/1450/2012), 2013 to 2015
ROBOTIC TECHNOLOGIES FOR A NON-STANDARD ARCHITECTURE (FCT PTDC/ATP-AQI/5124/2012), 2013 to 2015
BEST CASE – Better Science Through Cooperative Advanced Synergetic Efforts, Research Line 4 – Cooperation and perception for augmented autonomy, ON.2 O NOVO NORTE – Programa Operacional Região do Norte, Priority Axis I – Competitiveness, Innovation, Knowledge – SAESCTN-PIIC&DT/1/2011 – SR&TD Integrated Program (2013 to 2015)
Programação de alto nível para células robóticas industriais: captura de movimentos do corpo humano (FCT PTDC/EME-CRO/114595/2009), 2011 to 2014
Perception-Driven Coordinated Multi-Robot Motion Control (FCT Project Reference: PTDC/EEA-CRO/100692/2008), 2009 to 2012
PEst-C/EEI/LA0014/2011 – Projecto Estratégico – LA 14, Investigador responsável pela Research Line: Robotics, Intelligent and Autonomous Systems for Complex Environments, 2011 to 2012
INTELLWHEELS – Cadeira de Rodas Inteligente com Interface Multimodal Flexível (FCT RIPD/ADA/109636/2009), 2010 a 2012
MOZCO – Desenvolvimento de metodologias e técnicas avançadas de monitorização da zona costeira (FCT PTDC/ECM/099999/2008), 2010 a 2011
ACORD – Coordenação Adaptativa de Equipas de Robôs (FCT/PTDC/EIA/70695/2006), 2007 a 2009
DOLPHIN – Análise do Comportamento Hidrodinâmico de Dispositivos de Acostagem e Amarração. O Caso Crítico do Terminal Petroleiro do Porto de Leixões. (FCT/PTDC/ECM/72835/2006), 2007 a 2009.
Closed Contacts and Technology Transfer Projects (2009 to …)

GNR – MOBILE ROBOT, Research Affiliate: G.N.R. – Guarda Nacional Republicana, Adaptação e desenvolvimento de novas funcionalidades para um robô móvel da GNR destinado à desativação de explosivos e outras operações similares de alto risco (2015 a 2016)
AUTOCLASS 2 PROJECT – Automatic Classification and Quality Control for Car Tyres, Research Affiliate: CONTINENTAL – MABOR, (2015 a 2016)
SUBMARINO WHALE 2, Research Affiliate: Friday, Ciência e Engenharia do Lazer, S.A. (2015 a 2016)
INTEGRAÇÃO DE VEÍCULO AUTÓNOMO EM SISTEMA LOGÍSTICO FLEXÍVEL, (DELTAMATIC – Engenharia e Automação Industrial, S.A.), Contrato de Concessão de Incentivos Financeiros no âmbito dos Sistemas de Incentivos à Qualificação e Internacionalização de PME – Vale Inovação. Contrato nº 2012/23517, (2012 a 2013)
PRODUTECH PTI – PPS4 – SISTEMAS E APLICAÇÕES PERIFÉRICAS PARA A ROBOTIZAÇÃO FLEXÍVEL E MÓVEL (nº 13851), QREN – Sistema de Incentivos à Investivação e desenvolvimento Tecnológico – Projectos Mobilizadores (2011-2014)
AUTOCLASS PROJECT – Automatic Classification and Quality Control for Car Tyres (2011-2014)
SIIARI – Sistema para o Incremento da Inteligência Artificial em Robótica Industrial ( QREN – Sistema de Incentivos à Investigação e Desenvolvimento Tecnológico, Projectos de I&DT Empresas em Co-promoção. (2010-2011)
ROBOTVIGIL – Robot Vigilante (QREN – Sistema de Incentivos à Investigação e Desenvolvimento Tecnológico, Projectos de I&DT Empresas em Co-promoção, I&DT associada a Redes de Nova Geração. (2010-2011)
SISTEMAS ROBÓTICOS PARA ACÇÕES DE DIVULGAÇÃO E PUBLICIDADE, (FEUP/ISR e CLEVERHOUSE – Sistemas Inteligentes, Lda.), QREN – Sistema de Incentivos Vale I&DT, contrato nº 2009/6550, concurso nº 6/SI/2009,  2009 – 2010
APLICAÇÃO ROBOTIZADA DE ANTI-ADERENTES (FEUP/ISR e  FLUPOL – Aplicações Técnicas de Polímeros Fluorados, Lda), QREN – Sistema de Incentivos Vale I&DT, contrato nº 2009/3166, concurso nº 11/SI/2008,  2008 – 2009